Last updated on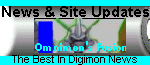 2:47PM EST Sunday 2-24-02 By : omnimonsfusion
hey,
I updated alot! I got the digibowl done, all the episode summaries done, spoilers are coming soon and a splash page! Thank you and bye
____________________________________________
4:08Pm Mountain Time 2-22-02 By: Omnimonsfusion
hey,
I got two new staff to help me. Check them out in staff. Also i will be doing alot like a splash page with info about new episodes and more graphics, news, episode summarries and more!! I got a new episode guide, it is Episode's 30-39.
30) An Imperfect Storm
31) Kazu's Upgrade
32) Shibumi Speaks
33) Rabbit Transit
34) Lionheart
35) Give a Little Bit
36) The Battle Within
37) No Mon is an Island
38) Azulongmon Explains All
39) Song of Sakuyamon
If you don't like Episode Spoilers then don't look below!
Episode 33 spoiler...
Beezelmon comes after the group and they all try to fight him. They basically fail. Leomon tries to fight him but dies and Beezelmon loads his data. What will happen to Jeri?
Thanks to DigiTamer & Digi Port.
So check back later!! Bye.
_______________________________________
Saturday, 2-16-02 1:09 EST By: Omnimonsfusion

hey,
Today's episodes were awesome and also i got a new affiliate. Check it out. Also i got a new quiz. The old one was Who do you want to win the Digi-bowl? And you guys said
2nd Season 38votes, 41%
3rd Season 54votes, 59%
Well i will have more pages updated! Bye
------------------------------------------
Friday, 2-15-02, 9:25 PM EST By: Jared

Hey,

Tomorrow's episodes will have a new tamer Ryo show up. Which will be reall cool so watch it. Also that digibowl info will take a while and hope you had a good valentine's day. Thanx bye!!
----------------------------------------